Need some ideas out back? Here are eight of our favorite crashed yards with beautiful fire features from Matt Blashaw, a licensed contractor and host of DIY Net work's Yard Crashers .
An Outdoor Lounge for the Grownups
This newly transformed backyard in Carmichael, Calif. features a bench seat built around a mulberry tree that makes for a great spot for visiting and casual dining. A flagstone patio on the ground level leads to a beautiful wood deck with gas fire pit and custom privacy wall.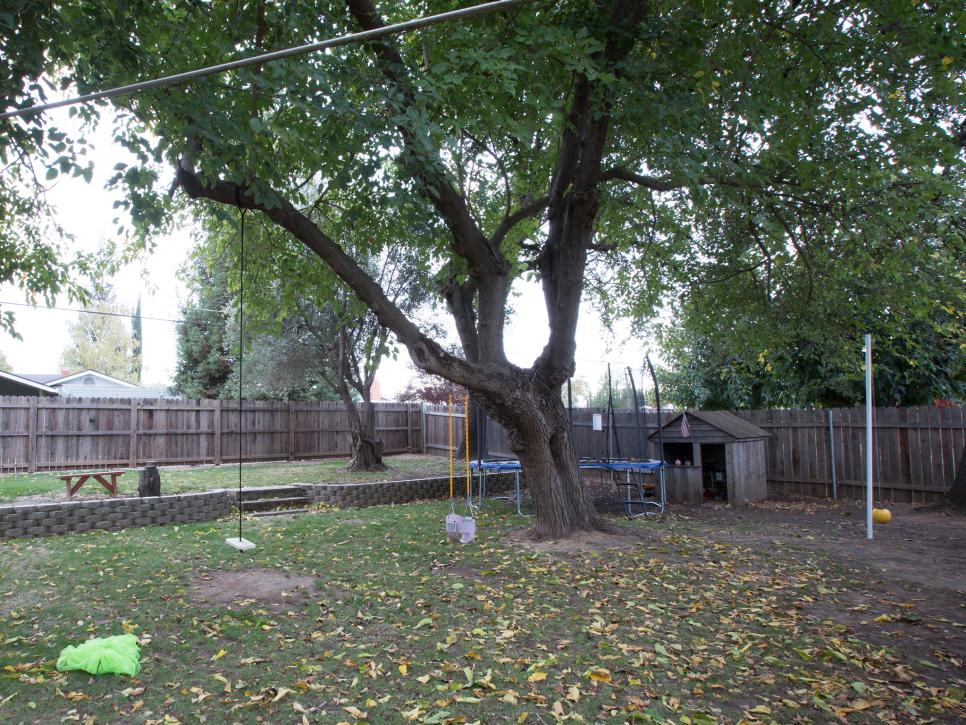 Neglected and Underutilized
Before: The Carson family's backyard was child friendly, but lacking an adult area for relaxing and entertaining. Before the renovation by licensed contractor Matt Blashaw and crew, the spacious backyard was suffering from neglect and was scarcely being used to its full potential.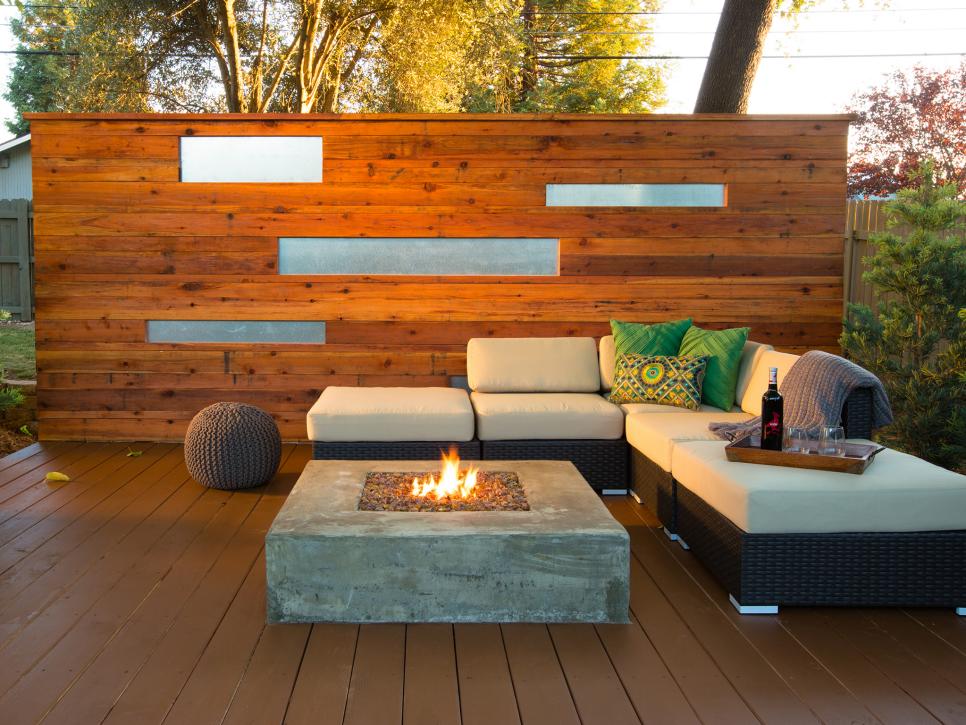 Cozy and Warm in the Outdoors
After: The fire pit which sits atop a stained redwood deck, and backed by a privacy wall, is nicely furnished with new outdoor furniture that makes to create a welcoming space.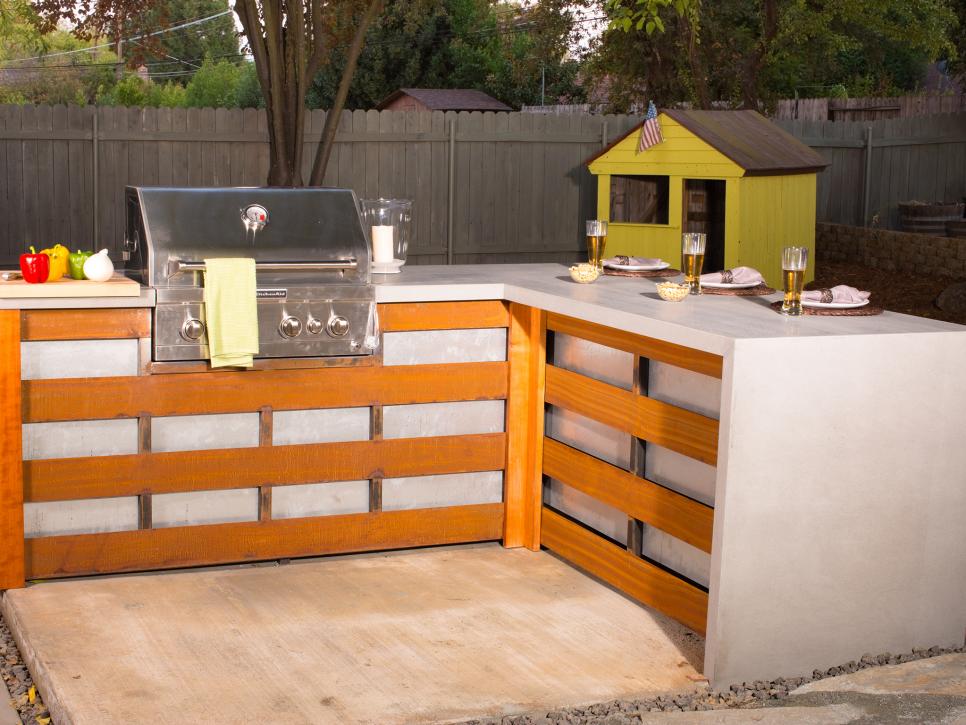 Dinner Is Served
The new gas grill is accompanied by barstools made with barrel staves and a counter (seen here) for serving and food prep. The counter's L-shaped exterior is braced with steel bands treated to give them a rusted patina.
Made In the Shade
A custom wood bench built around a mulberry tree is the perfect place to relax in the shade.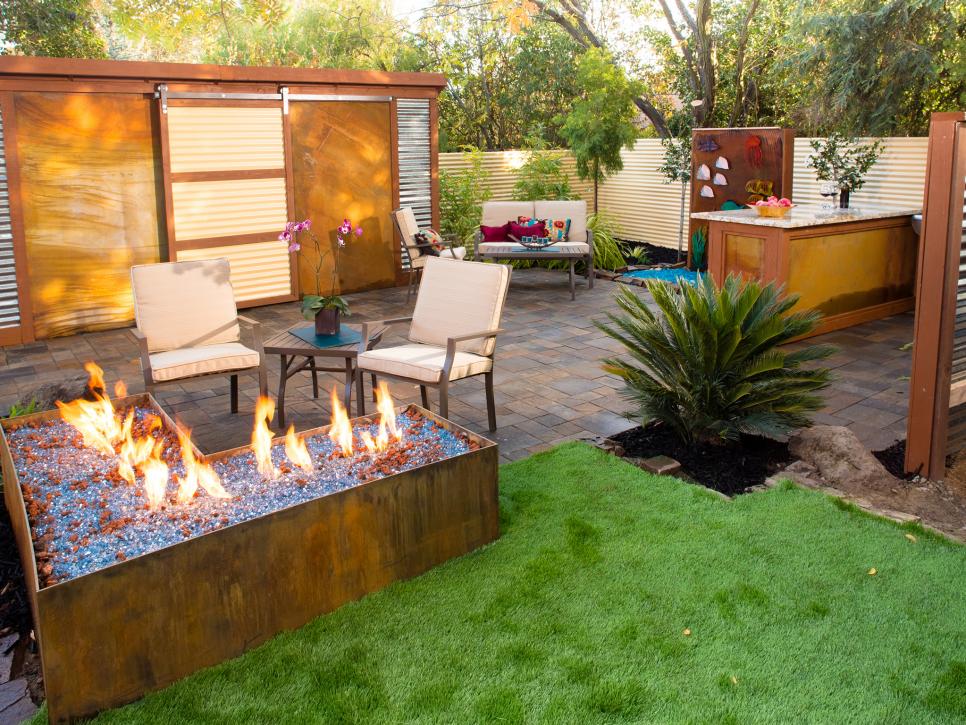 Contemporary and Entertaining
Karl and Michael's home had been under renovation for 12 years, and is designed to reflect their contemporary lifestyle and love of entertaining. The backyard was the last space in need of a facelift. As seen here, Matt Blashaw completely transformed the space with a variety of new additions including this impressive metal and glass fire feature.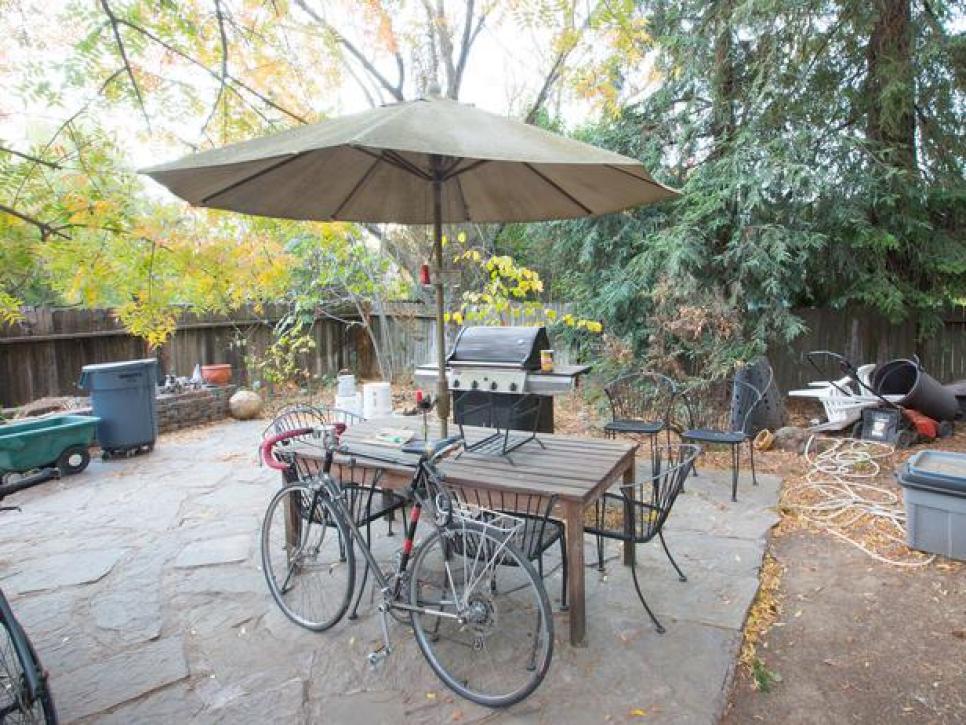 Downtrodden and Dilapidated
Before: The sad backyard had an aged flagstone patio surrounded by dilapidated fences, overgrown shrubbery and an assortment of junk.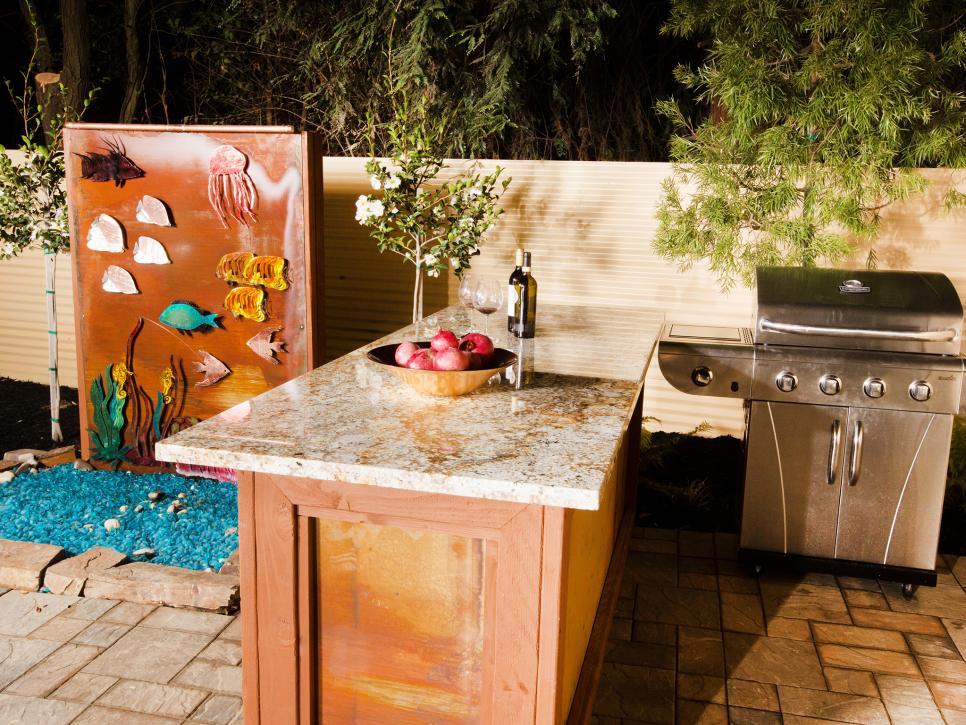 Upscale Outdoor Kitchen
Matt's crew built this outdoor kitchen that's ideal for grilling and entertaining.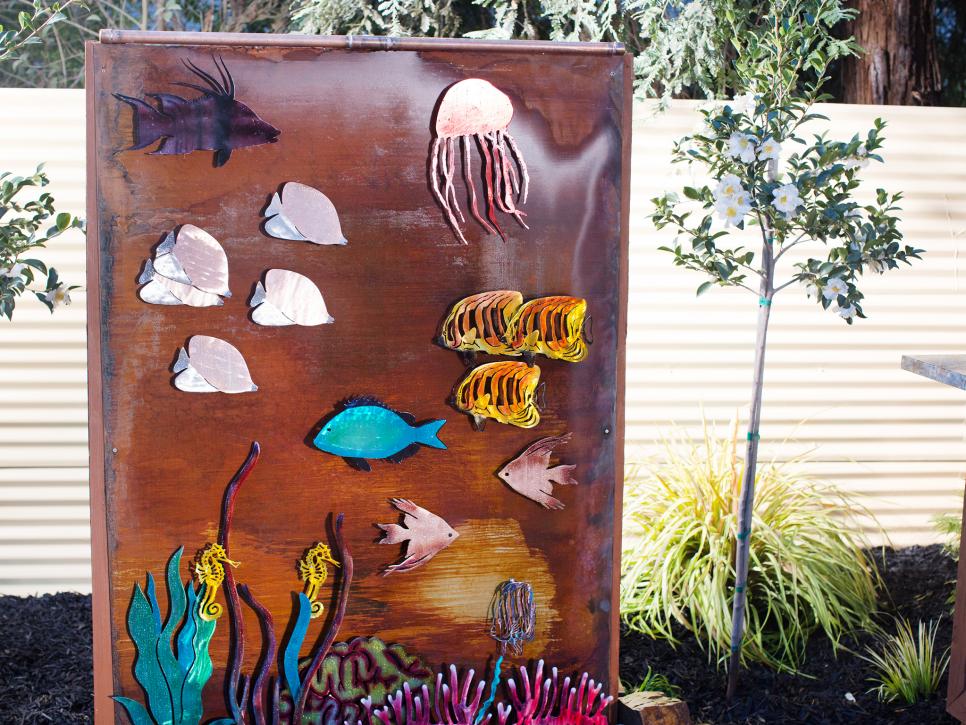 Fishy Feature
An artistic water feature designed and built by Alan Polinsky is a highlight of the backyard makeover, adding a visual show piece that's genuinely unique.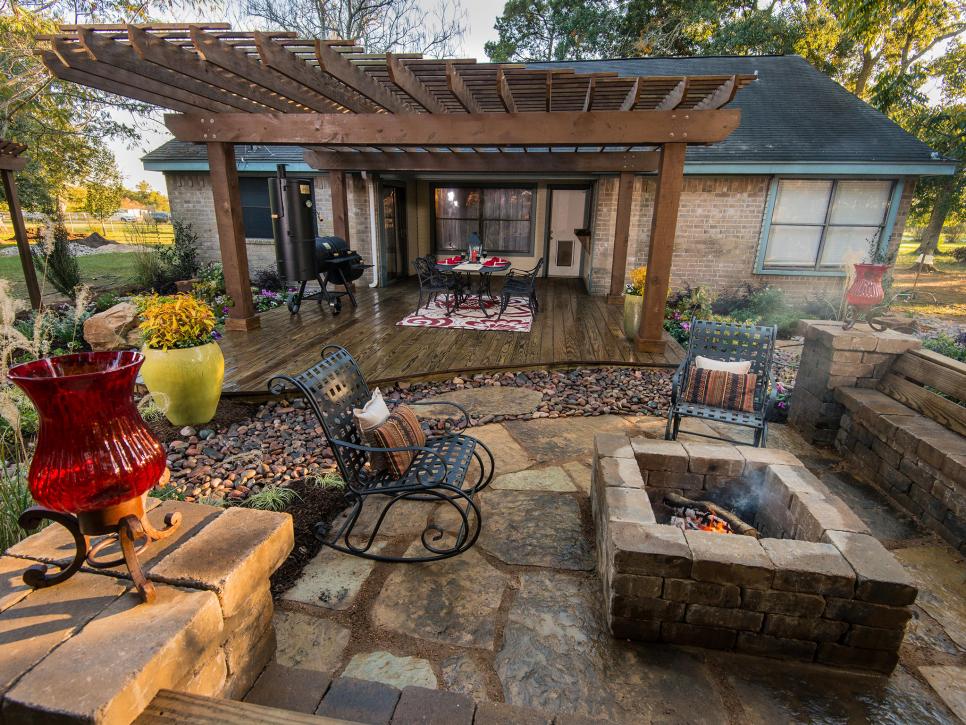 Pergola Paradise
After: With the backyard overhaul complete, a fire crackles in this inviting fire pit of this new back yard featuring a deck and pergola in the background. Black lattice chairs, earthtone pillows, yellow ceramic pots, and red glass hurricane lamps provide multiple accents around the outdoor fire pit and seating area.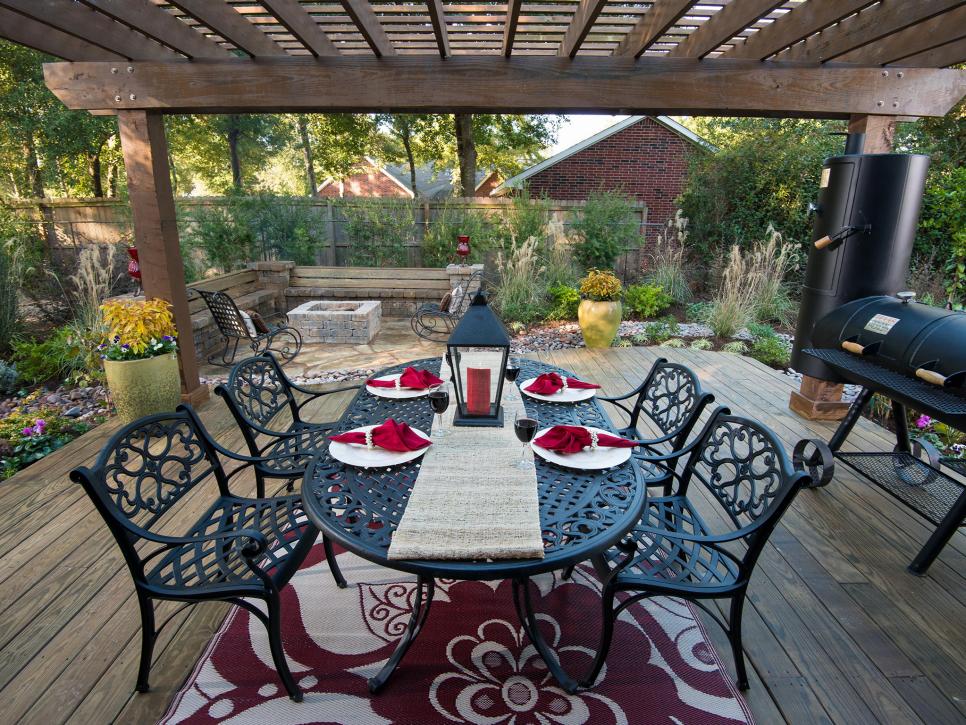 Dinner With Friends
A new wooden deck and pergola are home to the new smoker and casual dining table. The adjacent seating area sits just on the other side of the stony creek-bed feature.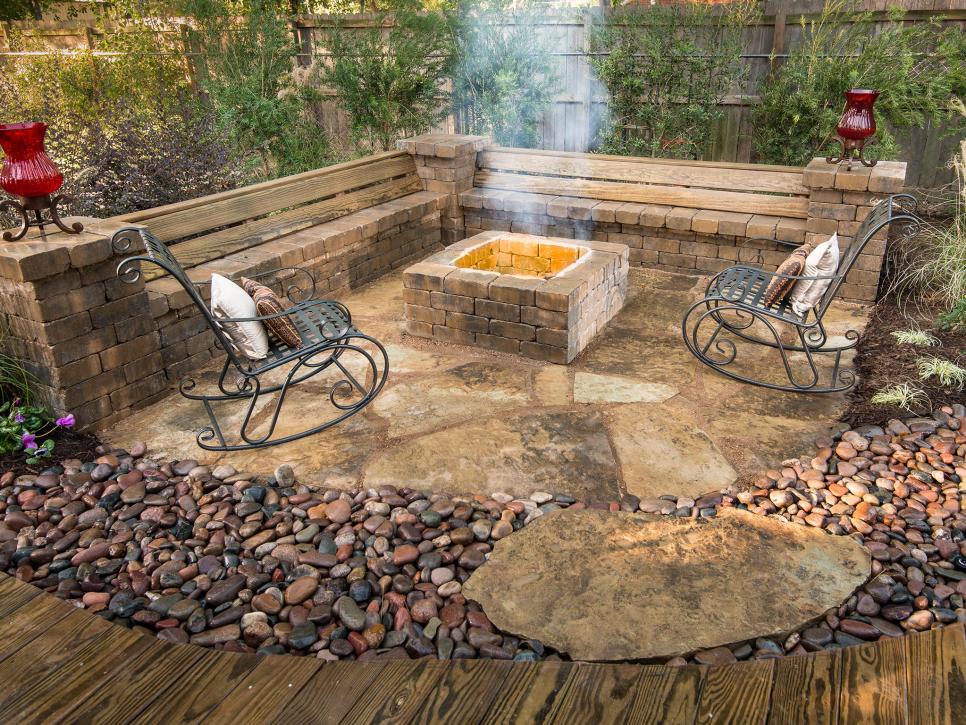 Suitable for Conversation
The new brick fire pit and small patio offers a quiet spot for conversation and warmth for cool evenings.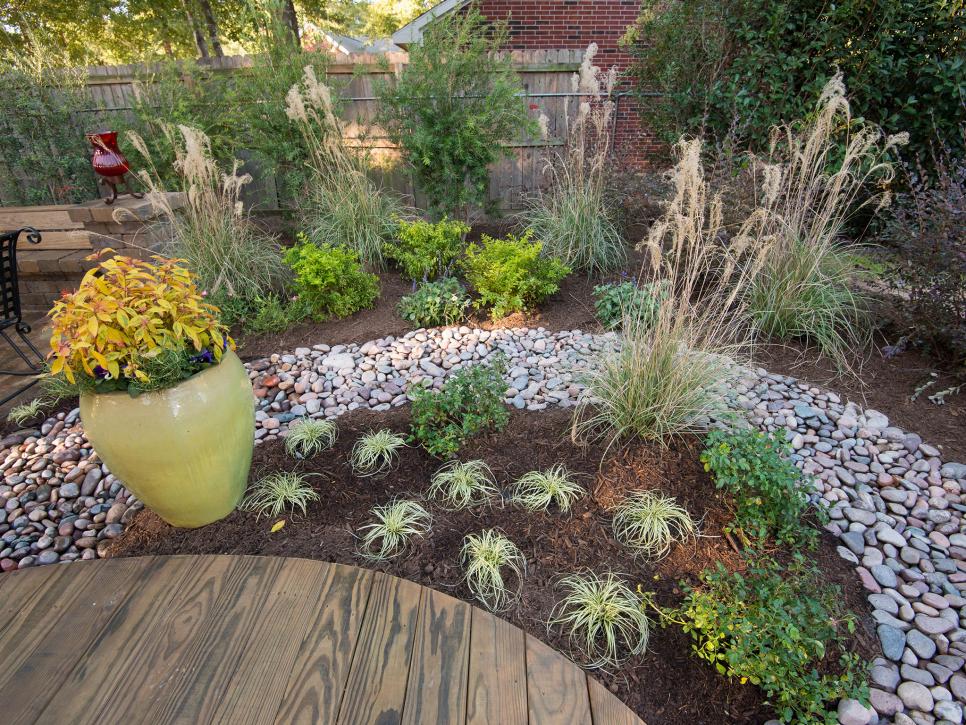 Stone Creek Bed
A garden feature that emulates a dry stone creek bed echoes the curve at the end of the wooden deck.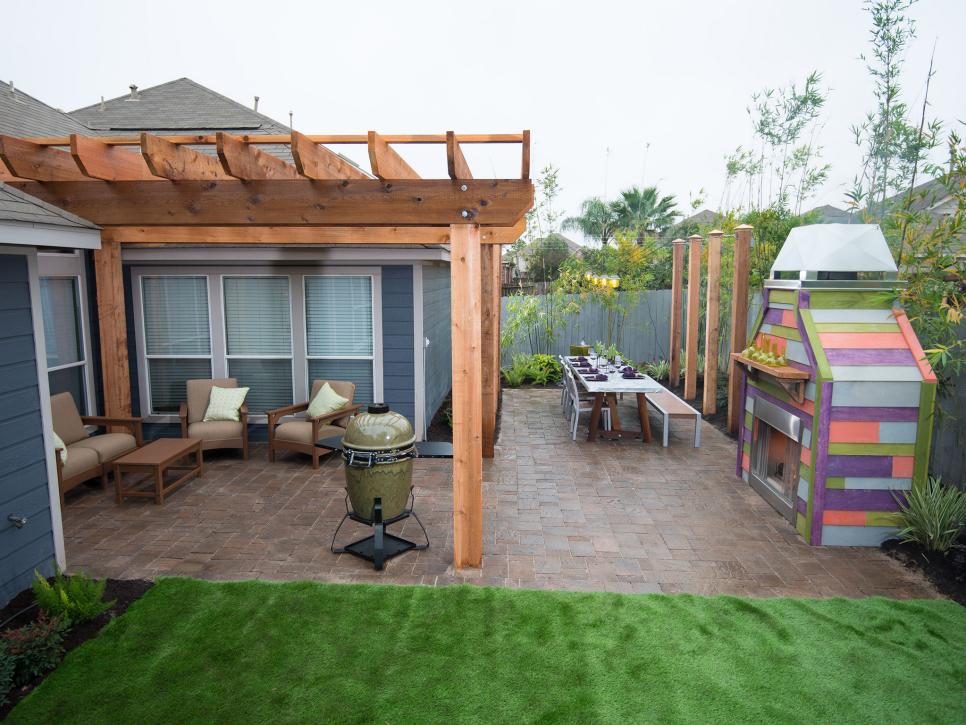 Best Days Ahead
This backyard belonging to a Houston couple has been newly reimagined with a hip and funky vibe. With artificial grass, a multicolored fireplace, wood pergola, stone pavers, zinc-topped table and hanging pendant lights, this once drab backyard is given a new lease on life.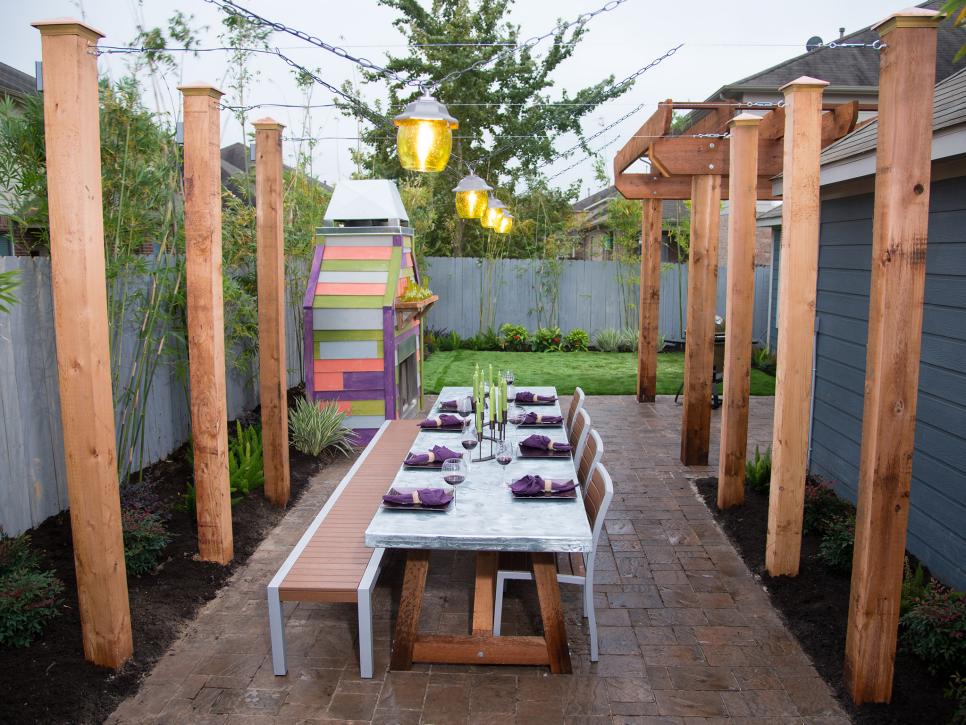 Pendant Lights and Pavers
After: An outdoor dining area with overhead pendant lights and stone pavers helps bring a whole new character to the backyard space and makes outdoor dining enjoyable.
Floating Deck with Shade
The owners of this yard in the Sierra foothills were feeling hopeless about the once vast and open space with nothing to fill it. The crashed version of the yard features a floating deck with shade structure, a tin tile privacy wall to define the backyard, a metal water feature, fire feature with boulder seating, vegetable planters and all new landscaping.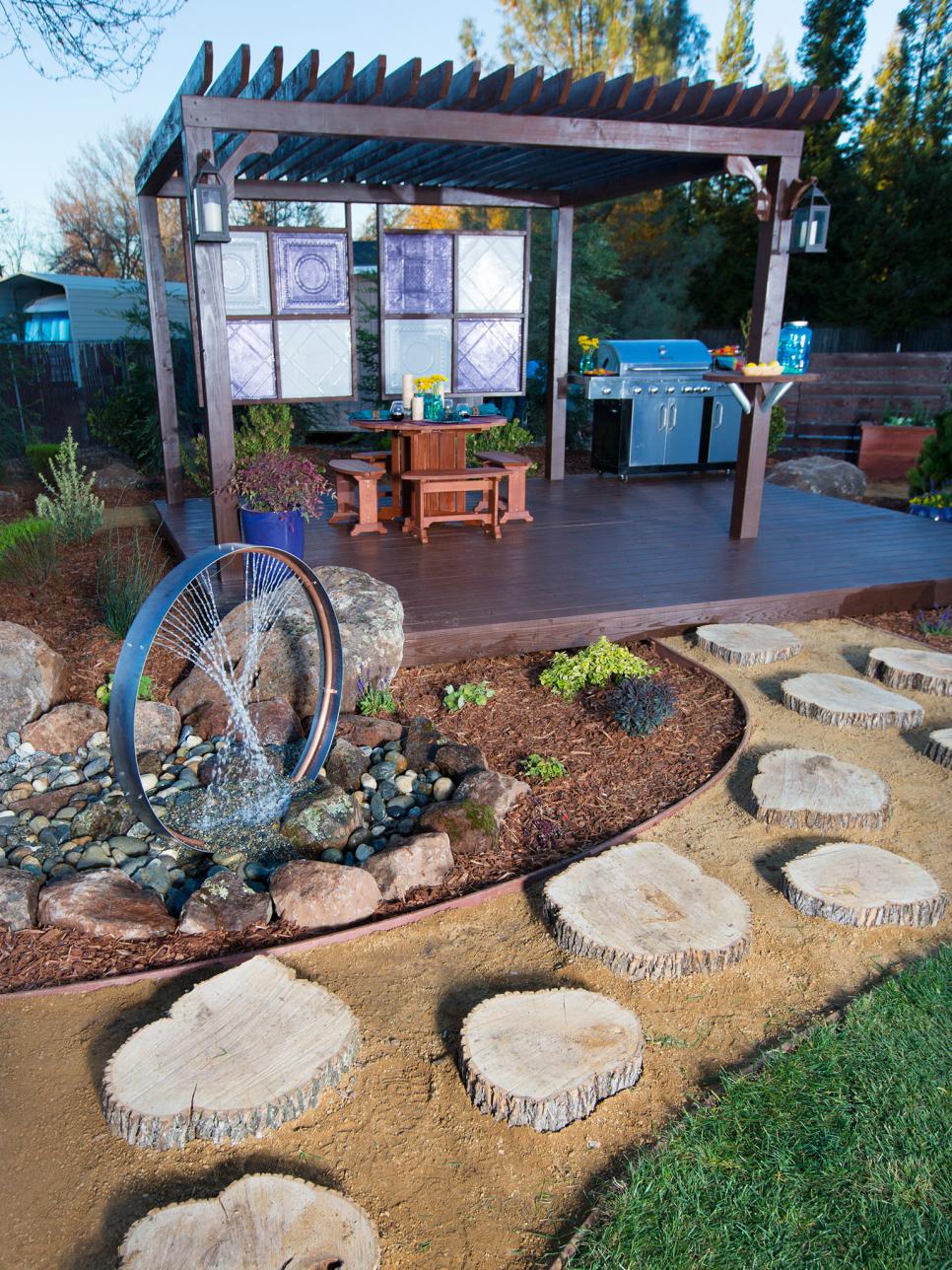 Space Redefined
After: In the newly redesigned backyard, cut-log steps lead to a floating deck with shade structure. This wild and different metal water feature, adds visual and auditory interest.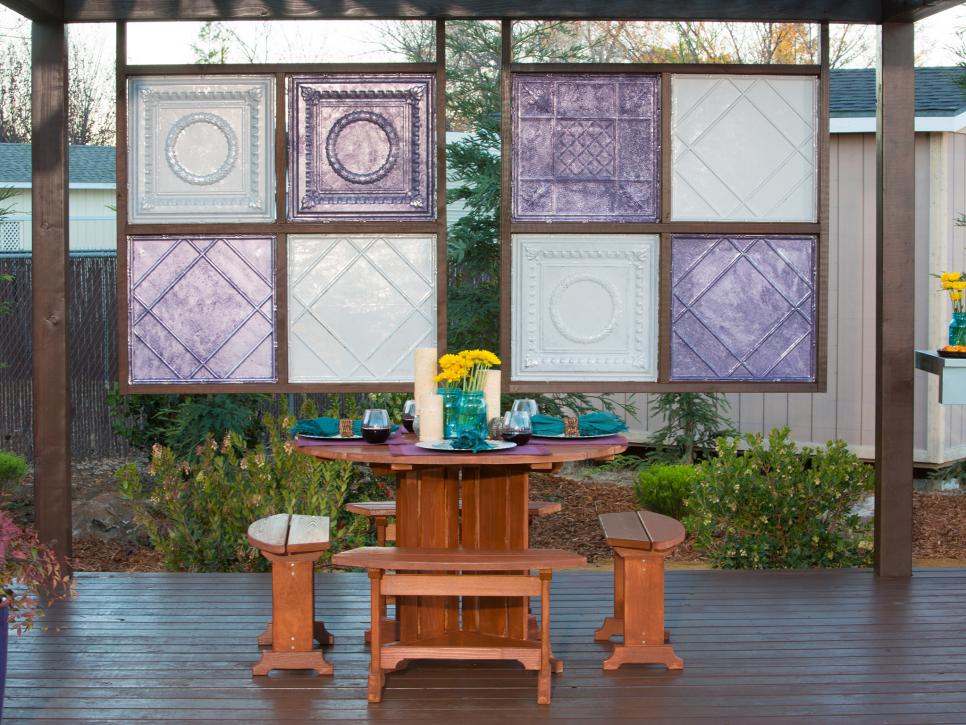 Private Dining
A table for a few is set to entertain in front of a tin tile privacy wall on the floating deck with shade structure.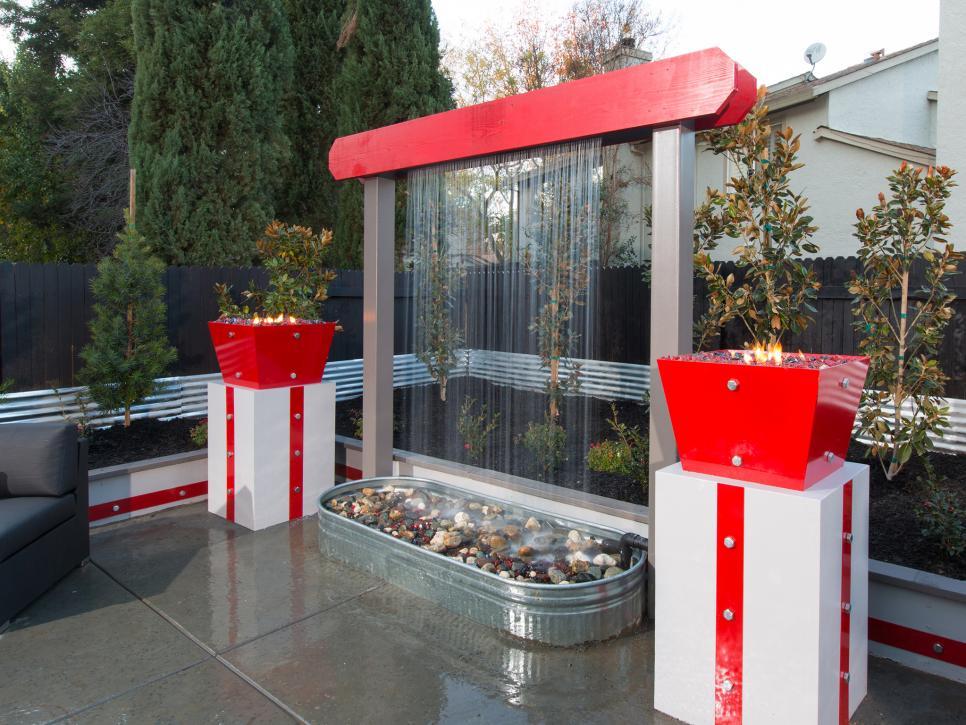 Fire and Water
After: The unique combination of metal fire bowls and rain curtain visually transforms the space and provides a spectacular night-time visual in the new backyard space that doubles as an outdoor theater.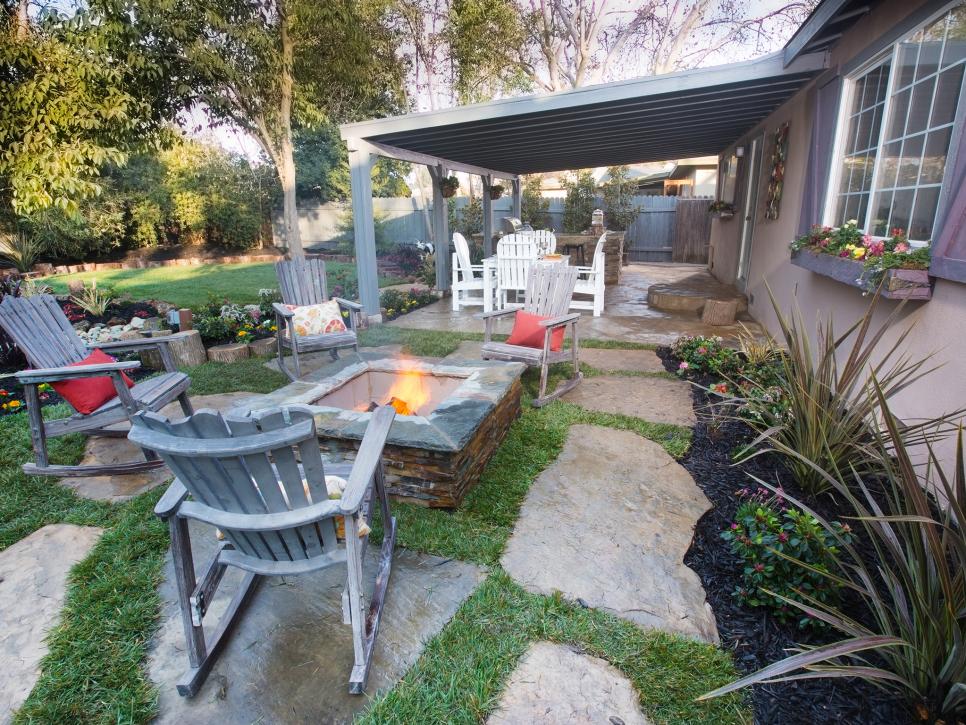 Time for a Change
After spending many of their resources on DIY projects inside their home, the owners of this Orangeville, Calif. home enlisted the help of Matt Blashaw and crew to help out. By adding a covered outdoor kitchen and firepit, they were able turn their empty backyard space into an area where they can proudly entertain.
Fall Pond and Dry Creek Beds
The backyard makeover included the addition of this massive water feature with a fall pond and dry creek beds.